News from CTOH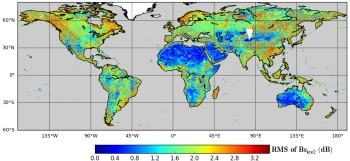 The CTOH (Center for Topographic studies of the Ocean and Hydrosphere) is a French Observation Service dedicated to satellite altimetry studies. The CTOH aims to help scientific users develop new altimetric products and applications. Within this framework, the CTOH maintains homogeneous altimetric data bases for the long-term monitoring of sea level and ocean currents, lake and river levels, the cryosphere, and the planet's climate.
Hereafter, their latest news:
The Center for the Topography of Oceans and the Hydrosphere (CTOH) has reprocessed the original ERS-2 waveforms (WAP data) with a new implementation of the ICE-2 retracker algorithm. The new ERS-2 product includes new altimetric corrections that make it compatible and homogenous with the ENVISAT (v2.1) mission, and is tailored for continental surfaces, but with global coverage; this product provides a baseline for ERS-2/ENVISATv2.1 continuity and long-term altimetry data analysis (1995-2010).